One of the things I looked forward to about having a girl was being able to go shopping with her once she grew old enough to enjoy it. I saw us cosily looking through racks of clothing, comparing taste, chatting companionably, sharing confidences and pausing for cups of tea as we found fabulous items at incredible prices..
Turns out she's old enough to enjoy it.
Today was a rainy public holiday and Husband and I tossed a coin to see which lucky parent would get to stay at home and loaf while One napped and which would entertain Four, chomping at the bit for some kind of action .
I lost.
I decided to take her downtown with me to try and spend a large gift certificate I have left over from Christmas at a shop that I like the look of but hardly ever find clothes I want inside. This happens to me a lot. I get shopping fatigue really quickly and become bored of the whole thing and have to go home and lie in bed to recover from retail trauma. I probably wouldn't have bothered attempting this expedition but in addition to the enormous sum of money I have to get rid of at this particular emporium (a number of returned gifts from different sources) they sent me a 15% off card valid for this, my birthday month only, which pretty much forced my hand.
Four complained that it would be boring to come with me (agreed) but I promised her I would let her pick out some clothes to try on herself – she loves grownup clothes – and also select some outfits for me.
It's very odd – this child has never seen a fashion magazine (I loathe magazines of all kinds except ones that are about electronic musical instruments and I'm not allowed these because I lock myself in the loo for hours with them in manner of adolescent boy and creepy moans emanate from door). and yet she has an uncanny, if unconventional, sense of style and knows instantly what will go together and what will not. She dresses herself (or rather she stands around and orders me to dress her in the manner of Victorian lady's maid) in fabulous concoctions from her wardrobe and dressing up box that I would never think to offer her and always comes out looking astonishingly chic. I vaguely remember that I used to look quite stylish and had a wardrobe crammed with alluring and up to date clothes before I was banished to Stepford but now I find it difficult to reconcile my wardrobe to my lifestyle and will wander around shops looking at clothes feeling puzzled.
Is this for me?  Is that piece appropriate to my current life and the climate?  Is it ugly or fabulous?  What age am I now?  What is my name? etc..
So having Four along as my personal stylist seemed like a good idea, plus she's cheap –  a couple of lollipops and a hot chocolate and you're away.
We selected some clothes together and went into the changing room.
Thinking of a christening we are attending soon I tried on this silk dress.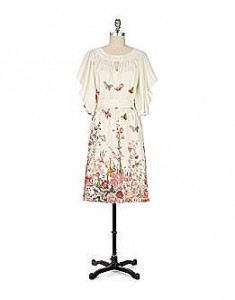 Four:
"I like the butterflies, but I think it's made for someone with REALLY fat arms.
 
Next item: A sage green silk dress, Grace Kelly style. Imagine self at polo club with kitten heels, hair up, lightly tanned arms, without children, speaking to dashing men..
"I think that dress is meant for a teenager"(sound of slapping and wailing )
Next item:, Multi coloured long hippie style dress for beach. Imagine over bikini, long, wavy, sunkissed hair flowing, joint in hand, no kids…
"That makes you look like a jester!" (muffled snorts from other changing rooms plus splintering crash of my pride shattering in pieces on floor).
Pause while I recover, count to ten and force smile at her.
"What is a jester, Mummy?"
Next item: Black ruched t-shirt. Great! Breasts look large and perky, waist looks tiny, imagine with jeans and young Marlon Brando.. Still, $118.. Thinks..
"Can I have a lollipop now? You look nice in that but only if I can have a lollipop"
Next item: White cardigan covered in musical notation that she has picked out for me. Truly heinous like a joke tie from the '80s but in knitwear form.
"You look as beautiful as a  piano!"  Um, thank you? (nb.would not wear even if sent to Siberia naked save this item)
Give up, return to floor to look for other items.
Four renews interest in shopping expedition as she meets another little girl waiting with her father as the mother tries on clothes. She attempts to impress her new friend and draw her close with confidences:
"My mummy has a sofa that smells of fire. It's really cosy but if you tell lies on it, it will burn you to death. Do you want to come over?"  Surprise when other child demurs.
Then she announces in a very loud voice that the dad
"Smells really bad between the legs."
I have been watching the girls at play very closely so I know nothing untoward has happened, but the poor man must have tried to release a quiet fart while he endured the interminable torture of waiting for his wife to shop and contain his exuberant preschooler at the same time.
Now Four had outed him very publicly and every woman in the store was staring at him as if he were a sex offender. Meanwhile she and his own child lay shrieking with giggles on the floor, pointing at him and shouting
"Smelly between the legs!! Smelly between the legs!!"
I am ashamed to admit that I, too was doubled over, discretely weeping with hysterical laughter and biting my fist in an attempt to contain myself behind a display of blouses and was therefore unable to discipline my child or offer any sort of remedy for this unfortunate occurrence.
Oh dear.
It may not come as a surprise to you that we emerged without a purchase.
My gift card remains unblemished, my discount will doubtless expire unused, but I am quite certain that I shall always mark this as one of my finest shopping trips ever.