Image: Lightbulbs 2008 by Chris Jordan
I am well known in my circle for banging on about the environment and making uncomfortable and unwelcome comments about social responsibility. I am not without my own hypocrisies – for instance I did not even entertain the cloth diaper issue for one second (not for me, no thank you) and I am having constantly to battle with my inner impulse shopper and temper her with my more mature planet saver (planet saver does not always win). Husband is very eco-conscious and finds it disgustingly easy to live by his frugal principles which sometimes drives me into a frenzy of contrary consumerism just to be awkward and this is further exacerbated by having dry peer-reviewed white papers from the front-lines of industrial ecology or in-depth lifecycle analyses quoted at me. I know he is right. I feel it to be right in my soul yet it makes me feel like a recalcitrant six year old and I don't want to listen.
It's all too gloomy. It's all too much. It's all too big and I can't cope. Let's go shopping instead and drown our sorrows in the intoxicating liquor of overconsumption and get fatter and fatter on our own greed and blindness.
On this note, the other day the children and I were at Costco, warehouse shopping experience extraordinaire, where I go meaning just to buy nappies and wipes but somehow always come out with a swing set, a lawnmower and a 12 pack of medjool dates, when we stopped at one of the little tasting stands where they give out free samples of the food. The young man serving the mandarin oranges asked me where I was from. I told him (are you expecting the usual spiel? I was) and he did indeed tell me he loved my accent but then surprised me by saying that he would love to live anywhere other than America, his homeland, because people here were such blind, fat consumers and all they did was shop and eat and it was DISGUSTING (he got louder and louder) and no wonder the planet was dying and there were starving people in Africa when these people were buying (ahem) 12 packs of medjool dates and lawnmowers that they DIDN'T NEED?  I was almost dumbstruck. I actually agreed with him on a lot of points and it was sort of flattering that he'd decided to exclude me from the rest of the Costco shoppers due to my nationality, but on the other hand one couldn't quite avoid the fact that there I was with my children and my giant trolley full of GOODS (medjool dates!). It was very surreal, especially as he had one of those mad hairnets and white jackets on but he talked a lot of sense in a raving loony sort of way.  I slunk off and quietly put back half of my unnecessary purchases (farewell medjool dates, this is the last we will hear from you) and walked out with milk, eggs, nappies and wetwipes feeling a lot better about myself. Plus it was really interesting which is more than can be said for most trips to that ghastly place.
I have often wondered why it is so hard to digest the information that each of our own small actions has a huge impact, collectively, on how we shape the future of our world. Husband knits his brow and shakes his head but has no answers – he is too busy working on the mechanics of it. I try, in my way, to do what I can, but it seems that we need some kind of translation from the unimaginable damage to the personal effect from the huge to the small.
Luckily for me, just as I was pondering this very mind-boggling subject, I happened across an amazing exhibition called Running the Numbers quite by chance by an artist, Chris Jordan, who has clearly thought this out and visualized it for us far better than I ever could have explained it.
Running the Numbers looks at contemporary American culture through the austere lens of statistics. Each image portrays a specific quantity of something: fifteen million sheets of office paper (five minutes of paper use); 106,000 aluminum cans (thirty seconds of can consumption) and so on. My hope is that images representing these quantities might have a different effect than the raw numbers alone, such as we find daily in articles and books. Statistics can feel abstract and anesthetizing, making it difficult to connect with and make meaning of 3.6 million SUV sales in one year, for example, or 2.3 million Americans in prison, or 32,000 breast augmentation surgeries in the U.S. every month.
This project visually examines these vast and bizarre measures of our society, in large intricately detailed prints assembled from thousands of smaller photographs. Employing themes such as the near versus the far, and the one versus the many, I hope to raise some questions about the roles and responsibilities we each play as individuals in a society that is increasingly enormous, incomprehensible, and overwhelming.
-Chris Jordan 2008
Chris has kindly given permission for me to use a couple of images in this post and I urge you to look at his website and read what he has to say as well as look at the pictures zoomed out and in for it is only there that you can understand what he is trying to do. And perhaps from there, you will also want to do something. For yourselves and for your children.
From: Mothership <info @ motherhoodthefinalfrontier.com>
Date: Sun, 14 Jun 2009 22:50:21 -0700
To: <studio @  chrisjordan.com>
Subject: Tumultous applause
Dear Chris Jordan,
This past weekend I visited your exhibition Running the Numbers at the Natural History Museum, which was a most pleasant surprise.
I am usually subjected to long and rather dull viewings of elderly and slightly fleabitten stuffed animals which nonetheless delight my two small children, or forced to explain (yet again) why I will not be buying cheap plastic items made in China from the gift shop which they will tire of before we reach the parking lot. However my eldest child, who is five, insisted we enter the room in which your photographs were housed, and without really knowing what was in store we went in and all three of us were immediately entranced.   The images are so fascinatingly beautiful, both at a distance and up close, and yet how uncomfortable it is to know, to be able to see – unavoidably – the precise figure of our gluttony.
That is not quite so pretty.
We went from print to print, with me explaining to the children what each picture was, and what the numbers represented (they are both too little to read). It was also very interesting to hear what they had to say about your pictures.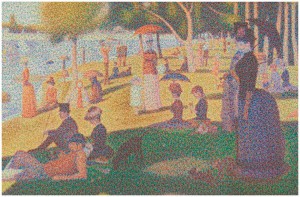 Five recognized the Seurat image.
"I know this picture" she said to me. "It is of a lovely lake with beautiful ladies from the olden days when you were young."
Upon closer inspection she exclaimed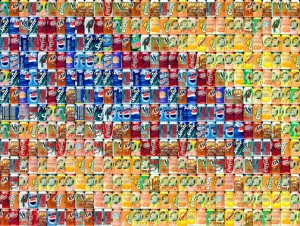 "Mummy, it's made of tiny teeny soda cans! About a hundred of them!"
I told that there were 106,000 aluminum cans, the number used in the US every thirty seconds, in this picture and that was one of the many reasons that we did not buy soda.
The next picture she was keen to explain to me: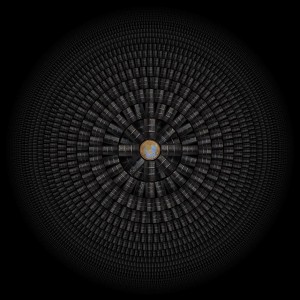 " That is the drying planet earth who is now a black, dark sun."
I told her the image was made up of oil barrels, that it depicted 28,000 42-gallon barrels, the amount of oil consumed in the United States every two minutes (equal to the flow of a medium-sized river)
She asked if we could just not use oil anymore because the earth was so sad.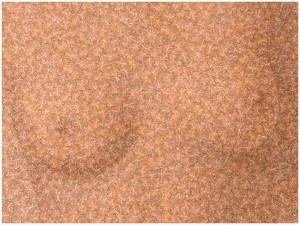 She was very interested in the Barbie/breast augmentation image (32,000 Barbies, equal to the number of elective breast augmentation surgeries performed monthly in the US in 2006) but I could not quite bring myself to explain it to her as she still has a few years left of innocence. We're hoping to keep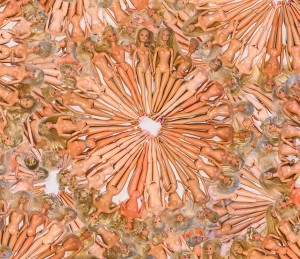 Barbie out of the house until she can define irony though I'm willing to admit this might just be my own foolish fantasy..
At any rate, the tumultuous applause part of this email is nearly over. I think you are marvelously clever and talented and love the fact that because of you I actually packed my groceries today directly into the car – I forgot my cloth bags at home (again, slacker) and couldn't bear to take a paper one thinking of your work. My husband is a professor of Industrial Ecology so really the facts and figures should be what sway me – God knows we have enough of them around here – but really, I think that you made your point and I don't have to quote it back at you.
I look forward to sharing your work and images with others,
Kind regards,
Mothership
Check it out : http://www.chrisjordan.com/