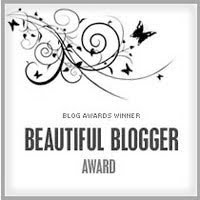 Well, actually she said I'm a beautiful blogger.
But it's an AWARD so I'll take it anyway.
The small hitch is that the rest of you have to endure listening to seven mind-numbingly boring facts about me that you were not supposed to know before, but as I've been blogging for a while now there's probably nothing left that I haven't already told you, even if I didn't exactly mean to.
Here goes anyway
1. I try to be polite and gracious. I honestly do. But when someone says something unfair, bullying, racist, sexist or treats others with grave contempt I have been known to *cough* speak up quite loudly.
Sometimes then I'm not very polite.
2. I floss my teeth every night. Except when I forget.
3. When I was eight I took trombone lessons at school. After my lesson was finished I was to return the school trombone to the headmaster's cupboard, next to his office, which was also where the tuck shop supplies were kept. Every week I would heave the unwieldy black case up the stairs and place my instrument next to the Eden-like temptation of a box of Banana Chewits. It was a painful moral battle each time.
One day I lost.
Walking out into the playground with my mouth stuffed full of guilty joy, the school nurse intercepted me and asked me where I had gotten the sweets.  Crap! I knew she knew. And she knew I knew she knew. So I did what anyone in that situation would reasonably do: I lied.
"From home, Mrs. Scott". I mumbled through the goo, eyes as wide as I could make them go.
Minutes later I was hauled into the headmaster's office, confession tearfully extracted and parents summoned.
I was terrified, ashamed, humiliated and I swore I'd never, ever do anything like that ever again.
Since then, I have been very careful only to steal sweets from members of my family.
4. I have an owl nesting in the palm tree in my garden. It spits out a lot of pellets which are fascinating to dissect.
5. I have observed that the people who spend the most time and energy trying to draw attention to themselves are often the least interesting
6. I love this band. They're mad. I found them on the street and now I'm a crazed groupie.
7. My tea is cold now. D'oh!
According to the ROOLZ I'm supposed to nominate a further fifteen people for this award.
FIFTEEN?
I don't even KNOW that many people.
Here are ten that I thought of before I contracted advanced link disease and my fingers fell off.
Please collect your award, link back to my good self  (either to thank me or shower me with curses), and then reveal seven fascinating facts about your own magnificent person and pass on the love to ten or fifteen more bloggers.
Don't say I never gave you anything.
http://ageofuncertainty.blogspot.com/
http://itsallsolovely.blogspot.com/
http://www.libertylondongirl.com/
http://belgraviawives.blogspot.com/
http://www.mrlondonstreet.blogspot.com/
http://misswhistle.blogspot.com/
http://geekymummy.blogspot.com/
http://deegeefee.wordpress.com/