Day 1: Death Valley
We left home at 6.30am with the car packed full and a trusty travel mug of tea at my side. My father had arrived the night before from a work trip in Seattle and was all ready to take the first part of the journey with me and the children. The outside temperature was 60 degrees fahrenheit.
I gave Eight a precautionary dramamine which sent him back to sleep almost immediately and Eleven sat quietly in the back, probably in shock from having to get up so early. Dad and I chatted companionably and we made good time getting out of Santa Barbara and into the inland of California. The time sped by as the scenery changed. The landscape became flatter, more agricultural and less pretty, and we passed a lot of ugly strip malls and dull highways. After about 3 hours driving we hit the small town of Mojave, (I say town, but really it's a strip of road with a few commercial establishments and a railroad station) . By this time everyone was quite hungry so we stopped for breakfast. We looked for somewhere local but were intimidated by the blackened windows and empty parking lots of El Jefe  and thwarted by the distinctly closed look of The Desert Inn, so ended up at Denny's which had a reassuringly familiar menu and clean bathrooms. I can't believe how many pancakes my children can pack down their small gullets!
As we left the parking lot we spotted an Army and Navy store which we couldn't resist having a poke into. It was like military surplus vintage heaven. All sorts of uniforms from all eras and areas, including a vintage Bobby's hat (how did that get here?) and a WWII machine gun (not for sale). Eight bought an army cap to replace the one his aunt's boyfriend, who is a proper soldier, had given him and that he had tearfully lost on a field trip, and was only narrowly dissuaded from spending all of his savings on an axe (I have decided not to think through the implications of this particular desire).   Intriguingly, the pink haired lady behind the counter old us she used to live in London. I wondered how she reconciled that with living in Mojave, town of two dusty streets.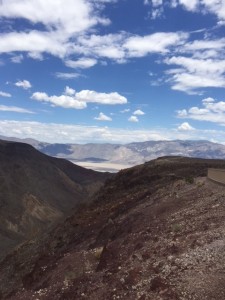 We set off again after filling the car and drove through Red Rock canyon which was quite beautiful and extraordinary but by the time I thought of taking a picture we were past it. This happens to me a lot. Consider it a MIRACLE that I have taken any photos at all.  By this point we were quite high up, an elevation of 3000ft, though I hadn't noticed a significant climb, but from here on the road got steeper. We went up and up to 4000ft quite quickly and stopped at an overlook with a spectacular view. Here we met some Harley-riding septuagenarians  who engaged my father in an enthusiastic conversation about obscure 70's rock bands. I observed with interest, that no matter your culture  or creed, the music of your youth unites you with your peers and this does not fade with time.
From this point (see picture to the right)  the road grew windy and steep going down and within 20 minutes we had dropped to below sea level and there was nothing green to be seen. Eight woke up from his second dramamine induced nap of the day and announced that Death Valley was the lowest point in North America. The things he knows!
We pulled into the lovely Furnace Creek Resort at 2pm and checked into our rooms which were thankfully air conditioned. Outside it was 113 degrees. Ugh. After eating lunch in the restaurant where, to our astonishment, we met a waiter who had lived for two years in a street literally around the corner from where my family lived when I was in nursery school, my dad took the kids to the pool while I sank into a much needed deep sleep for a couple of hours. I love naps.
When I woke up we drove another 17 miles to Badwater which is literally the lowest point in North America.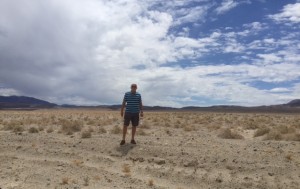 It's a dried up salt lick. You are walking on salt and other minerals and it is strangely beautiful and weird.   On the way, we passed a young coyote who was hanging out at the side of the road, looking like he wanted to hitch a ride. Cute, but dangerous (this is how I like to think of myself, too..)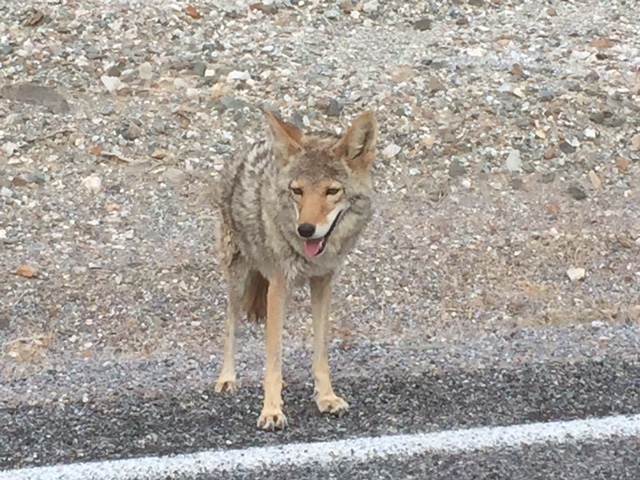 We came back, had some drinks on our balcony, another swim and a late supper in the restaurant. We were all too tired for more than a quick look at the incredible night sky before we sank gratefully into our beds.
It's been an amazing first day of the trip and I'm definitely ready for my beddy-byes. More in a day or two when we move on to Utah