*Warning – long post alert – it was a MEGA couple of days*
Eight had been complaining of feeling overly sleepy from the dramamine so we decided to risk not giving him one yesterday as an experiment. We left Death Valley at about 8am, stopping briefly to look out at Zabriskie Point of Antonioni movie fame. It is seriously weird and post-apocalyptic looking. Eight was thrilled by the oddness of the landscape and wanted to run out into the desert like a mad dervish but we stopped him, fearing we might never see him again.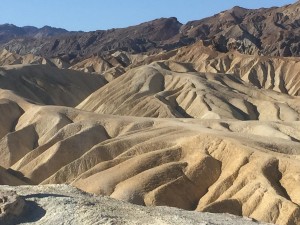 We drove on for a couple of hours, out of California and into Nevada where Eight spotted a Dennys (what IS it with that child and that place?) and begged that we stop for breakfast. No sooner had we got inside the restaurant than he bolted to the loo and threw up. He did recover fairly swiftly and wolfed down a large plate of pancakes with a side of motion-sickness pill, but the lesson here is do not ever let him in the car undrugged again.
d lost his debit card which nearly sent him into the slough of despond, not least because when he phoned it in, the lady on the other end of the helpline, presumably in the Philippines somewhere kept asking him to identify himself via his debit card number and there was quite a lot of barely repressed shouting of
"I am trying to EXPLAIN that I LOST IT SO I DON'T HAVE THE NUMBER.. Yes. No. NO, I DO NOT HAVE THE DEBIT CARD NUMBER".
This could have gone very badly wrong but my amazing new car came to the rescue by finding us a branch of his bank within a mile of our location and on our route, and within 30 minutes we had a physical replacement for the lost card and were back on the road. I love modern technology (the car and the bank. Woohoo!)
The next few hours were spent pleasurably listening to an audiobook of The Thirteen Clocks by James Thurber. If you have children (or even if you don't) I recommend this book for its delightful poetic language, dark humour and fantastical turn of event. It features an evil duke who likes to slit people from their guggle to their zatch. What's not to like?
By 2pm we were at the approach of Zion National Park.
A short break here to boast of my UBER EFFICIENCY in having purchased in advance an America the Beautiful parks pass for $80 which entitles one, plus every person in one's vehicle to free entry into all of the National Parks. Otherwise it's generally around $25-$30 per park for a seven day pass so you can see why this is a good bargain if you're going to visit more than a couple over the course of a year. They did ask for ID, interestingly, so you can't just buy one and pass it around to all your friends.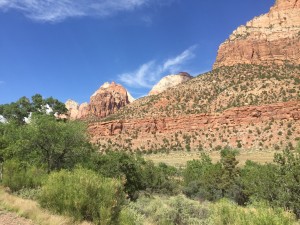 I hadn't particularly meant to go here, but it was sort of on the way and both Husband and Father had insisted it was worth seeing. I am SO glad we did.  We stopped and played with tadpoles in a stream on one side of the red mountains. The children got filthy and muddy (their favourite state) and even I poked around in the water with my bare toes.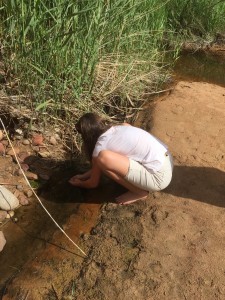 Then we got back in the car for a terrifyingly winding climb up the mountains. I'm not brilliant with heights and exposure and after a mile or two I had to hand the keys over to my dad and let him drive. I'm glad I did. The next thing we did was go through a mile long tunnel which is 4000 feet up in the mountain, but when we came out on the other side the scenery had changed subtly. Still the same red rocks and flat top mountains, but more green and gentle foliage around us, and then we saw these guys!
Ooh, the excitement! I love goats. Unfortunately they weren't nearly as interested in me as I was in then and soon pushed off. I feel this has happened to me quite often in life, though admittedly more often with attractive members of the opposite sex, but I digress..
We drove on to Kanab,  Utah to our rental cottage (we stayed in The Rose Cottage) which was quite charming and much better than I had hoped it would be. Three bedrooms, a fully stocked kitchen, a cosy living room with fireplace, and a back yard with a gas bbq. And it had its own laundry room with laundry powder already there. You have no idea how much I loved that part. I spend a stupid amount of time worrying about how to get clothes clean. I HATE having dirty clothes and hair. It's on the point of obsessive.  Dad took the children to the hotel pool around the corner and I bought food for supper which we ate looking at the red mountains in the distance from the patio. It was blissful.
The next morning we got up early and headed for the north rim of The Grand Canyon. This part is far less populated than the heavily touristy South Rim as there is hardly any accommodation nearby (thus our 2 hour drive from Kanab). The only lodge at the North Rim gets booked up a year or so in advance by people more together in their planning than me.  I have to say I never had much desire to visit The Grand Canyon (hereafter referred to as TGC). I'd seen photos. Ok. Big crevasse, I get it. I'm scared of heights. I don't like to be too hot. I loathe crowds. I don't like to commit to too much time in a place that's hard to leave or is far from a decent cup of tea (!) So again, I hadn't particularly planned on this being part of my cross country trip but I felt a bit guilty at sort of passing by and not showing it to the children.  Turns out that guilt was a good impulse. It's completely amazing. I don't think I quite took in that the layers of rock that make up the edges (is that the right word) of the canyon represent literally millions and millions of years and totally different eras of our planet.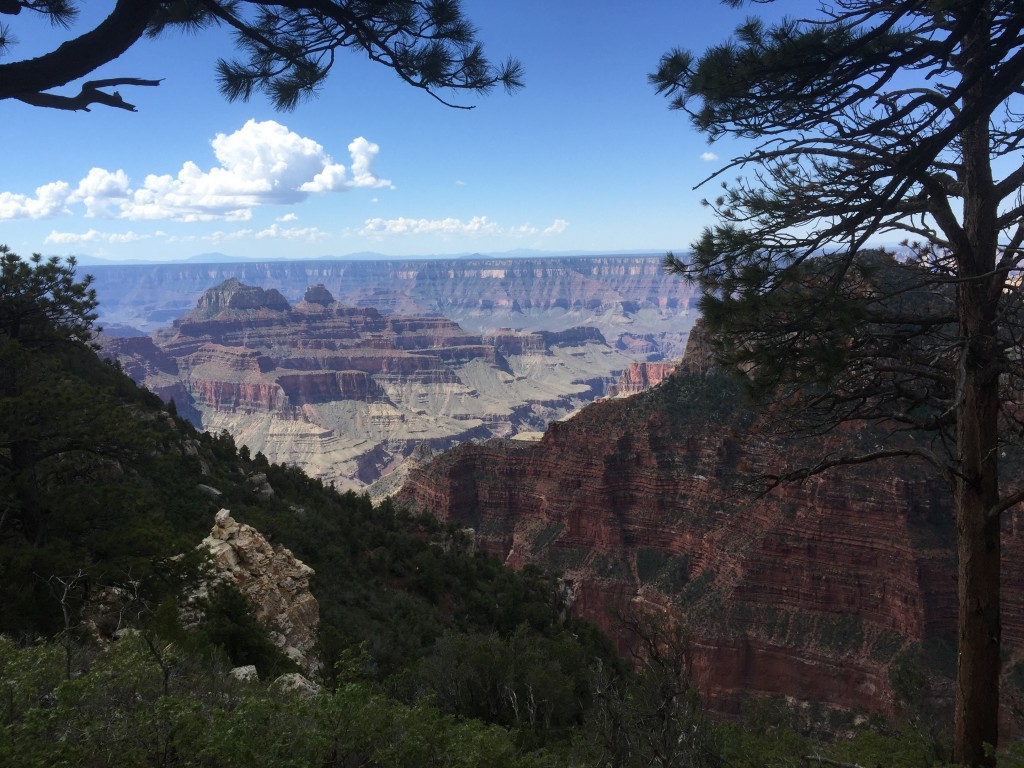 Unlike the way we tend to regard America as a country – new, hilariously short-historied as opposed to Europe, full of plastic toys and cartoon mice etc, this was so ancient, so awe-inspiringly mighty, that I felt quite humble and worshipful in a pagan, nature-loving sort of way. Does this sound mad? Perhaps. It's late and I've done quite a lot besides hiking uphill at 8000 feet elevation including laundry and making multiple sandwiches.
We are back in Kanab tonight but tomorrow at 5am we leave for Santa Fe, New Mexico by way of Four Corners (thank you, Eleven, for this obsession) and Mesa Verde. This means nearly nine hours in the car so a long day ahead of us. I'll check in in a few days. Feel free to say hello in the comments.