Yesterday we traveled for twelve hours.
Twelve.
It was exhausting.
We left the lovely Rose Cottage at 6am with a packed breakfast (my golden rule of no-food-shall-ever-be-eaten-in-my-nice-new-car having lasted just over a month, so that's quite good really) and set off towards Four Corners Monument because it is one of the places that Eleven has been desperate to see ever since we started planning this trip. Eight has not read any Harry Potter yet so we decided to listen to Harry Potter and the Philosopher's Stone (narrated wonderfully by Stephen Fry). It's very long as an audio book and perfect for a journey like this one.
If you are not familiar with Four Corners, it is literally just a place in the middle of seemingly nowhere that the state lines of Utah, Arizona, New Mexico, and Colorado meet and it is on Navajo land. I can't say it was somewhere I particularly wanted to see but it's important that the kids had some say in the route and it wasn't too far off the way to Santa Fe so off we went.
Driving from Kanab, the route took us past the Vermillion Cliffs, and on to long, straight roads with scrubby, dry bushes around and the odd farm here and there.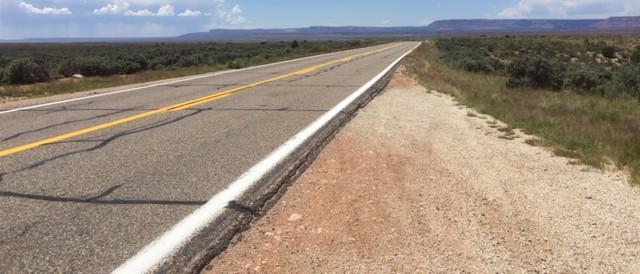 But along the route the scenery changed quite quickly becoming more hilly in places, greener in others and then, in Arizona again (how does it keep changing so mystifyingly?) back to dry and bare.
After about four hours we arrived at Four Corners.
The place itself seems pretty bleak; you turn off a smallish road on to a dirt track, pull up to a ticket booth where an extremely grumpy Navajo woman charges you $5 per person (free for the under sixes, but no dogs of any kind including service dogs so if you're blind or deaf, tough luck). You can see a number of flags flying beyond a row of breeze block buildings and the day we arrived they were all at half mast due to the recent death of a Navajo person of some importance. The monument itself is literally a circle of flags around a concrete floor which has a compass written into it and a place where you can stand with your feet in all the four states.
Enclosing the circle of flags are forty or so local Navajo vendors all selling jewellery, arrows, t-shirts, and other souvenirs. My dad bought Eight a knife made of buffalo rib – quite beautiful and absolutely lethal if one were to wish to stab open a letter, and Eleven a necklace with (predictably) a horse on it. The man who made the bone-knife told us he was also the local medicine man which was interesting. Could he cure wounds inflicted by his own weapons? Disappointingly the fry-bread stand was closed so we were denied the opportunity to buy something delicious that would also make us feel sick in the car minutes later, but you can't have everything.  I wondered later if the dead person of importance was also the fry-bread baker although this might be a little farfetched.
We drove on for an hour or so, hoping to see the cave dwellings at Mesa Verde, but we didn't quite realise that once we arrived at the parking lot, it was a further hour to drive to the dwellings and another hour back. Then we'd still have four hours to go until Santa Fe. By this time we'd been in the car for five hours so we decided, reluctantly to skip this sight and I will go back and look at it another time.
Over the next four hours, Harry, Hermione, Ron et al. got into various scrapes and thrilling escapades while we drove through the lush meadows and alpine hills of Colorado, and back into red rock and dusty scrub of New Mexico, and I was very, extremely glad to pull into our lovely hotel, The Drury, in a renovated old hospital in the heart of historic downtown Santa Fe.
The hotel itself is very pleasant, with extremely warm, friendly staff, big rooms with comfy beds, a pool, a hot tub, and an outdoor patio. Here is the view from there.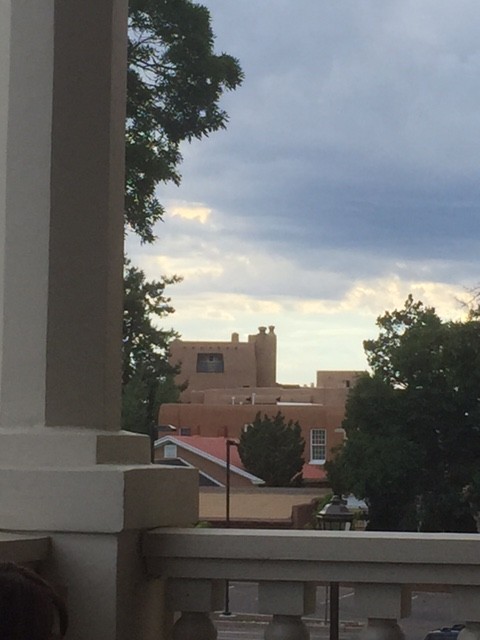 Included in the rate is breakfast and what they call 'kickback' which amounts to free drinks and hearty snacks from 5.30-7pm which was most welcome when we arrived at 6pm, starving hungry. In fact both nights we ended up not eating supper out but getting full at kickback' and then treating ourselves to ice cream on a walk through town.
Santa Fe itself is very beautiful. We admired its lovely adobe buildings, pretty Mexican style square, much like the zocalos I remember from Merida or Oaxaca (only smaller) and it has a crazy number of art galleries. I'm sure in the non-touristy part of Santa Fe they have normal shops but I liked being a tourist in this part. Today we also walked down to the train depot which not only has trains still running, but museums, a lovely park with a play area for children, restaurants, a farmer's market, and an old locomotive that you aren't really supposed to climb on but I did anyway, scandalising my children and worrying them that I might be arrested.
I have few pictures of today because I forgot to charge my phone yesterday (DUH). I am hoping at some point to get some from my dad but until then you will have to make do with my paltry descriptions, hampered by tiredness and snoring small boys.  We leave tomorrow at 6am for Abilene Texas by way of Lubbock, where many of my favourite Texan musicians come from (Buddy Holly, Joe Ely, Lyle Lovett) and we have prepared an appropriate Lubbock playlist with said artists for the journey.
I'll check in again in a couple of days.
On a totally random side note, we managed to watch the season finale of Game of Thrones tonight. Anyone else find it a bit meh?