That's not true, of course (would they fit?), and I'm borrowing the phrase from George Straight for those of you who aren't familiar with the song,  but I love so much music that comes from this state that it feels true. Sort of.
We left Santa Fe two days and several centuries ago at dawn and, abandoning the SatNav for a good old fashioned paper map, took the beautiful back roads and old country lanes heading towards Lubbock, Texas, home of Buddy Holly, Waylon Jennings, Joe Ely and many other notable good ol' boys and gals. My dad and I had c0mpiled a Lubbock-bound playlist on Spotify, heavy on the Buddy Holly, and to our delight and amusement Eight loved the songs and commented that he particularly liked how Buddy could change the tone of his voice.
Our first stop was the Buddy Holly museum which is small but rather wonderful. There is a sculpture of a giant pair of spectacles outside upon which we posed for photos, and inside lots of Buddy information and memorabilia including a very interesting timeline of the birth of rock 'n' roll. I took some notes to pass on to my students next year. There were a few of Buddy's guitars on display, interesting if you are a guitar nerd, but the one that intrigued me most was one that had been given as a personal gift by Buddy to a British friend and then donated back to the museum after his death.
That friend? Can you guess which ROCK ICON it was?
No. You're wrong. Whatever you guessed. You're wrong.
He gave it to Des O'Connor.
*slight slip of respect*
Anyway, after that we took a stroll down the Lubbock music wall of fame and posed for photos next to a huge statue of Buddy Holly.
Eight: He must have been REALLY REALLY TALL!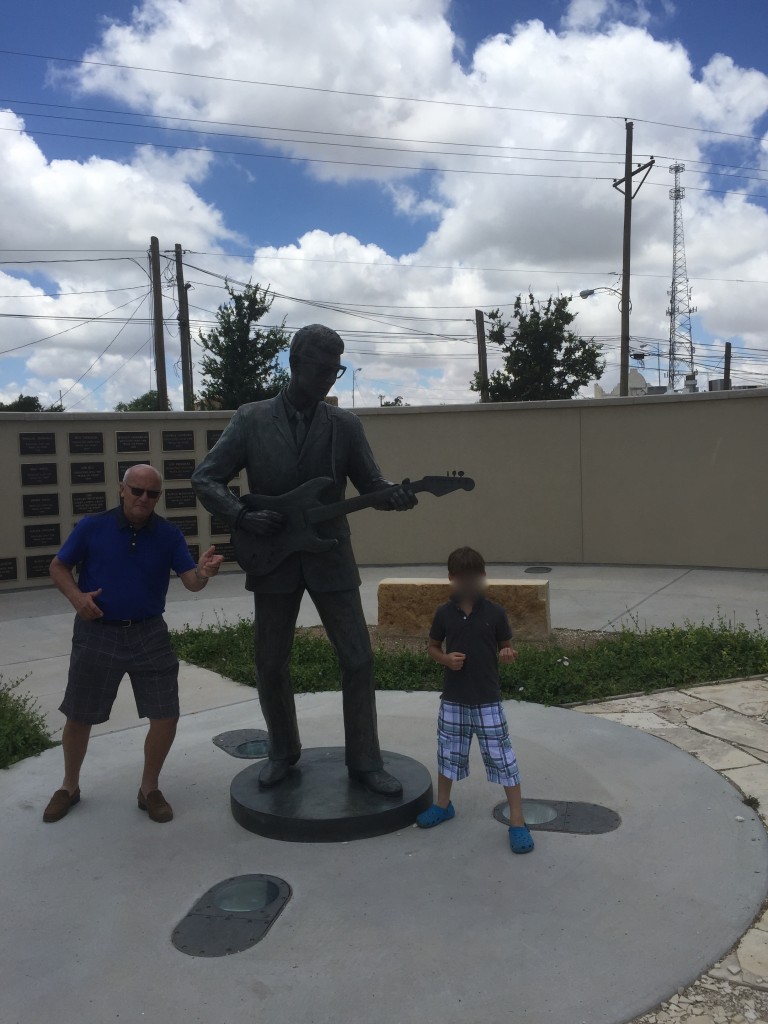 We ate lunch at the next door restaurant, The Cast Iron Grill a local Lubbock favourite with smiley waitresses in cut off jeans shorts, tight pink t-shirts and cowboy boots. Its slogan was "Boots, pie, and chicken fry".
After lunch we still had four hours driving to go until our planned overnight at the Hampton Inn in Abilene, Tx. We didn't have anything in particular to do in Abilene, but we needed to stop and this hotel came up as the best option there. I have to say, we've stayed at a couple of these in the chain and actually they're pretty good – reasonably priced, clean, comfy, free breakfast that the kids love, free food at happy hour, pools, fitness rooms, and guest laundry rooms. I rather like them, even if they do sit on the highways like giant McMansions.   We ate dinner at the fanciest place in Abilene which had steaks as big as my youngest child and various animals the owner had personally murdered on the walls.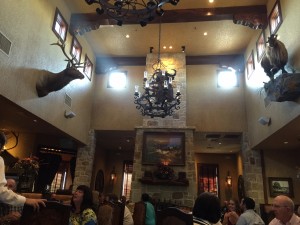 The next morning, we had planned to go and see some ancient native American cave drawings at Painted Rock. However, as we approached the property and called ahead to the owners of the farm on which the paintings dwell, the elderly lady who answered the phone told us we couldn't come as she had to take her husband to the ER.   One of the things that travel always reminds me is that there are so many people on the planet, each of us living our lives, with our separate problems, dramas, feelings, passions, life events, etc. And none of us are actually that important in the grand scheme of things, yet each of us is so precious to the ones we love and life must be valued at every turn, even in the mundane and every day.
We drove on, reaching Austin, Texas by mid afternoon and checked into our downtown hotel. The kids had a swim, we ate a late BBQ lunch, and then headed out to Congress Avenue bridge to see the famous bats who shelter under the bridge to raise their young and take off at dusk in their thousands. It's supposed to be amazing and unmissable and the children have been talking about it for weeks. We had miscalculated sunset and arrived much too early, spending nearly an hour hanging around the bridge waiting for the bats.
The bridge slowly filled with tourists waiting for the big event, though we were entertained by a man dressed in black with a bat on his hat (not a real one, obvs) and a batman t-shirt who had appointed himself an unofficial guide to the bats and kept banging on the railings and whistling at us (he was a deaf mute) to show us the best place to stand. He gave the children badges with 'the batman of Austin' on it and a card showing the alphabet in American Sign Language and we posed for photos with him.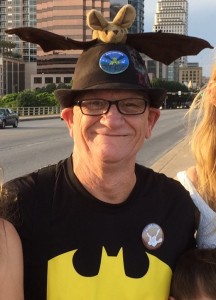 Good thing he was there to entertain us because by the time the bats came out it was nearly dark and we could hardly see them. Also, as Eleven said disgustedly, they didn't come out in a huge sheet as promised, but "they just fly around in circles like they don't know where they're going".
Verdict: BATFAIL.
We consoled ourselves with another Texas sized meal at a lovely restaurant where I had a few glasses of prosecco, Eleven ate peanut butter mousse cake as her main course (protein! she said, not unreasonably) and Eight fell asleep in his chair.
The next morning my dad left us to go back to DC – he has a wedding to attend, and the children and I got into the car at 8am in torrential rain, heading for Louisiana on another long day's drive.
Texas, it's been real.