It was a long, hot drive to Louisiana, and my first as the sole driver, but Eleven proved a masterful navigator and commander-of-phone and Eight remained cheerful and unsick in the back seat.
We left Austin in torrential rain which made for slow progress in the first hour, but that soon gave way to sunny skies and by mid morning we were negotiating the spaghetti junction of Houston's highway bypass system and looking forward to reaching the state border a little later. Then we got a phone message from the sister of the owner of the bayou cottage we had rented for two nights in New Iberia. I had been looking forward to staying here as it's right on the Bayou Teche and the property had once been owned by the grandfather of James Lee Burke (this author is much of the reason I'd been drawn to the town). It wasn't going to be luxurious but it had a canoe we could use and a porch upon which to laze in the hot afternoon. Alas, it was not meant to be. It turned out the owner was on her deathbed and the cottage was to be used for visiting family. I felt terrible for her, and also slightly anxious that this was the second person in two days who had nearly pegged it as we approached (was it something we said?). As I was cruising along at 80mph when we discovered all this I had to have Eleven, usually rather useless in the arrangement making department, get on TripAdvisor and subsequently the telephone to make us a reservation at a hotel in New Iberia instead which was surprisingly tricky as almost all the decent places were booked. Our favourite McChain hotel, The Hampton Inn was sold out (!) so we ended up at a Holiday Inn Express in a King Suite which sounds much posher than it actually was, but it had a/c, a pool, and a free breakfast so we didn't complain. Actually all things considered, it was SO FUCKING HOT I was rather glad we were in a corporate, air conditioned box with a pool rather than a quaint, non a/c cottage with a snake and gator infested river. The kids were desperate to cool off by the time and so was I.   so we had to scramble to find somewhere else to stay which proved more tricky than you'd think.  But I'm getting ahead of myself. To add to Eleven's brilliance at booking a hotel room (and negotiating a AAAdiscount, no less) she found an AMAZING restaurant on roadfood.com: D I's Cajun Restaurant,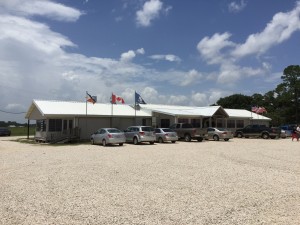 that was literally in the middle of nowhere, Louisiana,  for us to eat lunch. They were incredibly nice in there and could hardly believe that a) we'd found them and b) we'd never tried gumbo or fried frogs legs before. Actually we weren't brave enough to eat the frogs legs but the gumbo was amazing.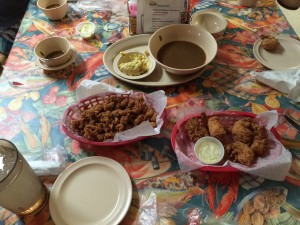 We arrived in New Iberia at about 3pm and immediately roared off for a tour of the Tabasco Factory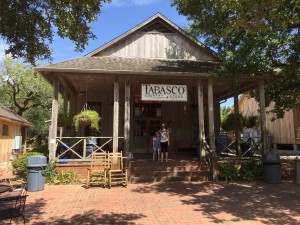 which is charming, and then to Jungle Island where we saw this guy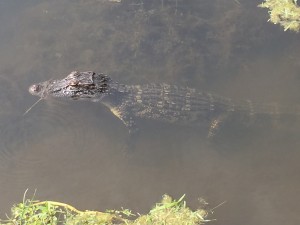 , beautiful birds of all sorts, and the most heavenly trees.
I would have spent more time walking around if it wasn't so BLOODY HOT. But it was. Brutally humid and boiling. One wilts as soon as one gets out the car.
We ate supper at a traditional Cajun restaurant that night with a band and a crawfish buffet which featured boiled crawdads and about a million fried things, each more delicious than the last. But looking at the other patrons I noted that it is not possible to stay a healthy size and eat this kind of food more than once in a very rare while.
The next day we toured the Koniko rice factory (fascinating),the Bayou Teche museum (also charming), took a little stroll down Main Street, and I do mean a little stroll because it was SO FUCKING HOT, and we stopped at an antique shop where we were given a most interesting lecture on early phonographs by an enthusiastic collector and I bought a vintage bamboo stair basket which is such a genius thing I can't believe I've lived without one before.
Later on we went to the carwash (the fun never stops) and then on to see Inside Out (SO GOOD – we howled) and then to Duffy's Diner where we ate more fried food and milkshakes. Ahh. I see new clothes in larger sizes coming my way.
The following morning we took a swamp tour in the bayou which is quite unlike anywhere I've ever seen before. So peaceful and beautiful with stunning birds, lotuses, trees steeped in water, and some more 'gators (getting blasé about these). We also got  got VERY VERY HOT.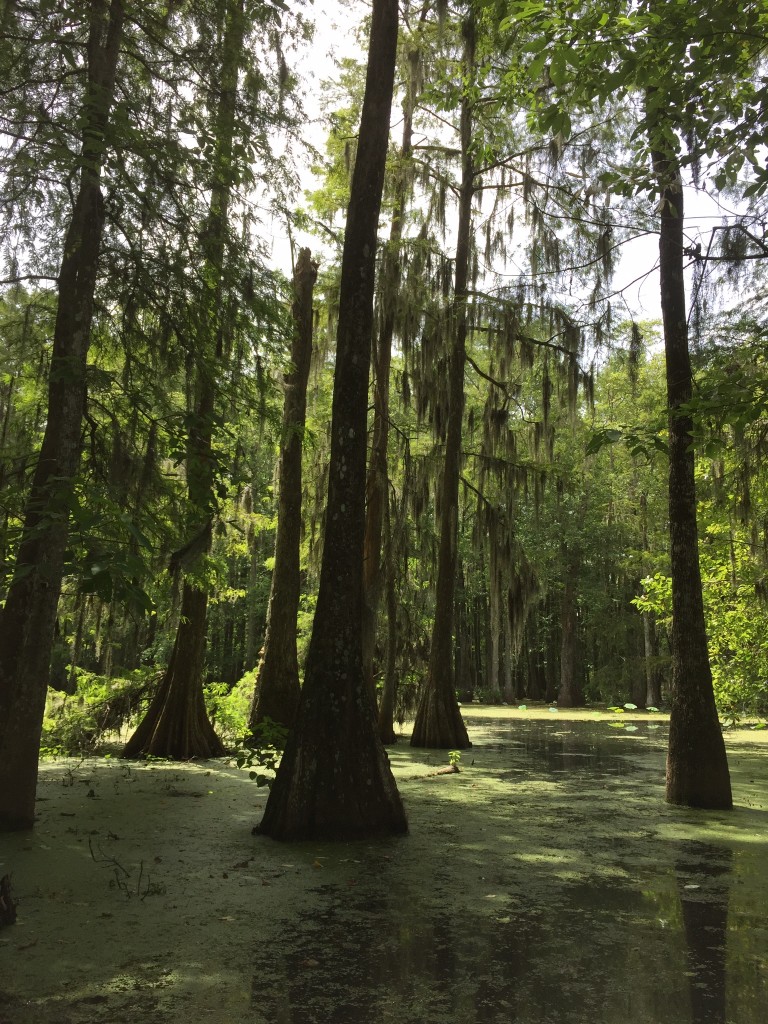 After this we jumped in our car and headed off to New Orleans.
Here it is also VERY HOT, but we have consoled ourselves with beignets which are a sort of fried doughnut and cafe au lait, and listened to some wonderful jazz. We've also visited a cemetery and wandered through the French Quarter and eaten lunch in the Garden quarter and after a much needed cool-off in the a/c of our lovely hotel, we wandered off to Frenchmen St where we listened to more jazz, went to a night market and bought some jewellery, and came home to bed. Tomorrow we are hitting the road at 6am and heading for Memphis, Tennessee.
I'm going to Graceland.