It took nearly six hours including a breakfast stop to drive to Memphis from NOLA, but as we left at 6am we still arrived with plenty of yesterday left. We checked in to the historic and famous Peabody Hotel, where they have live ducks in the lobby fountain, and took the lift to the eleventh floor where our lovely, spacious, and old fashioned room offered us a view of the Mississippi River. The children immediately tuned the TV to The Cartoon Network which seems to play Uncle Grandpa 24 hours per day (AGHH) before I dragged them out again to visit to Graceland,  blasting Hound Dog and Paul Simon's Graceland on the stereo all the way, much to the children's chagrin.  I just couldn't wait.
Except once we got there and paid about a bazillion dollars for the tour, waiting is exactly what we did. Despite arriving at their purportedly least busy time of day (mid afternoon), we ended up sitting around in the visitor's centre for about an hour before we were shunted past an obligatory photo-opportunity (theirs, to flog us an overpriced picture) and put on a little bus with an iPad to be shuttled over the road to the mansion itself. Eight was already whining that he wanted to go home, he'd had enough, and Eleven, though she didn't complain, was clearly annoyed with the entire enterprise.
I pretended we were all having a wonderful time and said irritating m0ther-like things such as
"Isn't this fun!?" when obviously it wasn't.
The house seemed quite small, really. I thought it was going to be huge – a millionaire's folly and a monument to bad taste (well it was that) but compared to the McMansions of today, it wasn't as big or lavish as it might have been. There was a lot of white carpeting downstairs
,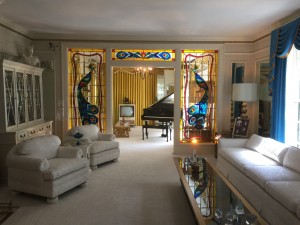 a giant, boxy, small-screened TV in every room, shag carpet on several walls, and a palpable air of sorrow about the place. The kidney-shaped swimming pool looked neglected and somewhat pathetic with its uneven diving board, reminding me of 1970's motels. We went through various other buildings which house his gold records and costumes and pieces of information on the career of The King, all of which carefully omit the epic creepiness of Col. Tom Parker, and gloss over the demise of his marriage to Priscilla. Hmm. Eight was so hot and tired that he opted to skip looking at Elvis' car collection (What?! All paid for!) and we headed out after an hour or so of actual touring. All in all I'm glad I went, despite the long wait, extortionate pricing, and horrendously tacky memorabilia for sale in the multiple gift shops, but I left feeling so very sorry for this incredible talent who was so hideously exploited and controlled, his creativity stunted by the greed and short-sightedness of his manager,  to the point that he self destructed by the age of 42. I guess that's the original rock-n-roll story. Also, how undignified to peg it on the bog? As my ex used to say (again and again to anyone who might laugh or at least pretend to), at least the King died on the throne
We returned to the hotel to see the famous procession of the ducks from their fountain back to their penthouse apartment. This was quite a spectacle and the lobby was rammed full of people. Then after a short rest we headed to Beale St to eat some BBQ and listen to the blues. We were not disappointed.
Firstly, there were dozens of classic cars on show lining the street.
I'm thinking of trading in my car for one of these: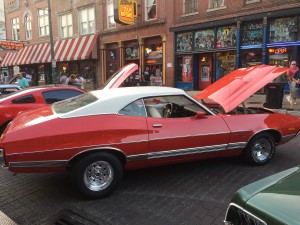 Then we ate some BBQ. Rather Eleven ate some BBQ. A full rack. All by herself.
Before: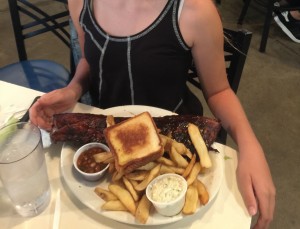 After: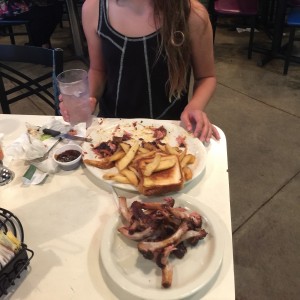 She didn't bat an eyelid but the waitress was pretty impressed. Then we walked up and down Beale St. listening to music at various venues and stopped for a while at one in particular where a fabulous singer invited Eleven up to tell the audience where she was from. Usually she hides at this kind of attention but to my surprise she was game and chatted away. He found it quite hard to wrest the mike back, actually. I see a glimmer of a future performer in her here – a chip off the old bloquette?
This morning we went to the Civil Rights Museum. It's really wonderful, though quite sobering and moving, particularly in light of last week's massacre in Charleston. I was quite tearful through a lot of it, and also thought of my parents who fought so hard for the struggle against apartheid in South Africa during the 1960's before they were exiled from their own country for so many years. Below is a photograph of the Lorraine Motel where Dr. Martin Luther King was assassinated. The museum is built into the former motel.
It was with some sadness that I noted how few people there were touring this extraordinary museum compared to Graceland. It's not that nobody was there, but it was noticeable that the huge crowds at Elvisworld were mostly white, happy to spend hundreds of dollars to see a little house and buy cheap plastic tat from China to commemorate one dead musician, but those folks weren't here looking at what's important today. As Elie Wiesel says, "The opposite of love is not hate, it's indifference."
Having said that, I do plan to have a peek at Sun Studios later today, and out for more blues and BBQ tonight before we head off to Nashville, home of country music, tomorrow.
By the way, in a way that combines equal rights and fair pay and music,  big props to Taylor Swift for single-handedly forcing Apple's hand on the payment for streaming issue. That is one very smart, classy lady.