Full disclosure: I am already halfway back across the country after my three week stay in Virginia/Washington D.C. and although I meant to post more I didn't because things have not turned out as I imagined them.
First of all,  first week of our Virginia vacation, during which my delightful children were supposed to spend four out of the five available weekdays at horse riding camp ended up being two days at camp and one day where all the campers came to our place for five hundred hours and my dad's new puppy turned out to have defecation placement disorder (i.e. she shits everywhere, all the time) and as a result I got nearly nothing done except cleaning the first week.
The second week, the children refused to go to camp at all and I fell spectacularly off my no-carb, no-alcohol program which had made me feel nigh invincible for the last 12 weeks and started mainlining champagne and pita chips with a side order of donuts. I let them watch cable TV for a good part of each day, read novels instead of writing one, and made the probably wise decision not to put my skinny jeans on again, maybe ever.
The third week Husband showed up and as we had not seen each other for over a month we decided to celebrate our reunion by having an epic row or five which we only just managed to resolve in time for the journey back.
I have done about six pages of editing. Not happy about that but in some large, champagne-induced way I have come to accept it.
So: The return journey. I should, by rights write a witty, informative, amusing post on each stop but instead I'm going to be truthful and just give you the bullet points and let you figure out where you would or wouldn't go (on all sorts of levels).
First day's drive:  We go from Virginia to Berlin, Ohio, which is Amish country. If you're not clear on who the Amish are, just imagine going back in time about 150 years as a devout Christian descended from the Dutch while everyone around you has progressed to the 21st century. You can't drive a car, you can't use electricity, you are obliged to wear truly hideous clothes and have bizarre facial hair (usually, but not exclusively assigned to men) that means that people like Eight mistake you for a giant leprechaun and ask you where you've buried your gold. You can go and watch the movie Witness if you want a rosy view. I found Berlin unbearably cutesy and a little bit creepy, especially once I'd been to a 'family farm' where I saw the most dejected, depressed, ill treated denizens of a 'petting zoo' I've ever seen. When I got back to our strange cabin, which reeked of old and Febreeze, I googled Amish and animal abuse and that came up with about a million hits as well as child abuse which didn't endear me to the place any further.
We left the next morning at 6am and headed for Chicago which is actually fabulous. We only spent a few hours in the city but managed to eat fabulous middle eastern food, catch a free rehearsal of an outdoor symphony concert and visit Geeky Mummy at her new home in the posh northern suburbs. We stayed at a Hampton Inn (O! How I love you, nondescript, utterly predictable, waffle-serving Hampton Inns!) and set off the next morning for…
Des Moines, Iowa.
Why Des Moines, you may ask? That is a good question. I don't remember why Husband picked it, but there it was in all its midwestern glory which is not very glorious. We visited the Living History Farm which was actually quite interesting, and the next day we were briefly the BEST PARENTS IN THE WORLD because we caved in and took the children to Adventureland which is a theme park and water park combined. I actually thought I'd want to kill myself on that day because I a) hate all rides, b) hate crowds c) hate fairs, but actually it was very sweet. I imagined it was like being at Disneyland in the 1950's before it became unbearably crowded and over branded. Fun fact: Walt helped to design this place so it had a sort of Disney feel without the Disney iconography, and because it's quite old there were many lovely mature trees providing shade around the place and none of the rides were totally sick making which was perfect for Eight and Eleven. The water park was perfectly nice, too, and we all cooled off in the various pools and after seven hours even Eight was tired.
The next day was De Smet, South Dakota. Five hours hard driving through amazingly boring corn fields and finally we arrived where Laura Ingalls Wilder spent her last years with Ma and Pa On the Shores of Silver Lake. We checked into the Super Deluxe De Smet Inn and Suites (not super, not de luxe, and with the most threadbare towels I've ever seen) and headed off to tour the Ingalls homestead and  attend the Laura Ingalls Wilder pageant which was an outdoor theatre performance of one of her books. That was actually very sweet. We sat out on the prairie and watched the local actors, so very proud of their most famous denizen, reenact her life and times. It's worth noting that if you go to De Smet you should bring your own food or plan to starve as the local restaurants are gobsmackingly bad. I ordered a tuna salad at the Oxbow restaurant which looked like a bowl of elderly grass topped with a dollop of cat sick, and even Eight said his fries tasted bad (this literally never has happened before in his entire life). I enjoyed learning more about Laura but I was very keen to get out of there. To give you a sense of how De Luxe the De Luxe De Smet Inn is, here is a photo of the breakfast buffet.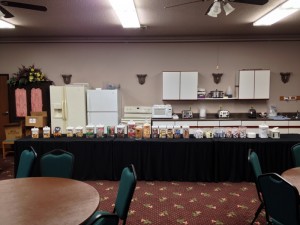 En route to Wall, South Dakota we stopped at Mitchell, SD, hometown of 1972 presidential hopeful George McGovern, and, more importantly The CORN PALACE.  Husband had been talking about this for literally months. He said it was a palace made of  corn. I had to see it.
But, devastatingly, it was not a palace made of corn. It was just a municipal building that is annually decorated on the outside with ears of corn. Still, you can't make this shit up. It's all too mad.
We headed on to Wall, SD, home of the famous Wall Drug store which has signs advertising it from the state line 100 miles prior. We drove through the Badlands which are truly weird and wonderful. I've never seen any natural structures like this. It seems as if, out of nowhere on the flat prairie, God came and made some of those drippy sandcastles in multi colours and sprinkled them full of fossils and then got bored and went elsewhere, leaving behind only a trail of hefty bikers and families in mini vans to examine His/Her handiwork. However it was too hot to explore much more than an hour or two.
We were booked in to the Frontier Wall Cabins (husband's choice) which purported to be rustic log cabins that made you feel close to nature. I was actually dreading this, but when we arrived it was husband's turn to feel misled and bamboozled because it is actually a highway-side motel with plastic coated individual rooms that look like they're made of Lincoln Logs. Each cabin has air conditioning and its own fridge and cable TV. I fucking LOVE IT!
We went into Wall to visit Wall Drug which is full of every kind of western crap made-in-China that you can imagine and had a lunch nearly as bad as the one in De Smet, but surprisingly I bought some very lovely body wash and two nice books at Wall Drug so I came back happy.  At least as happy as I can be with two tired, whiny kids who'd prefer to be at home at this point, and a husband who keeps asking me why the food is so bad here (I don't know! I've never been here before!). Then I felt guilty because I haven't read or responded to any of my email for 4 weeks and I have totally failed to keep up the blog. So I did what any self respecting Brit would do and bought a packet of ready salted crisps, pulled a bottle of champagne from its secret hiding place beside the spare tire, chilled it in a bag of ice and drank it as quickly as I could while the sun went down. (I did share with Husband. Honest. Hic!)
So. we are geographically halfway home. I can safely say that I liked the south west considerably more than the north east but I'm looking forward to the Wild West of Wyoming for the next four days. We have the rodeo coming up, a dude ranch, a lovely Hampton Inn somewhere in Utah, and then, I shall be VERY GRATEFUL to get back to Stepford where the sun always shines, but not too hot, the salad is always available and plentiful, I have a cat who knows how to poo by itself outside in the neighbour's garden, and my own lovely, lovely bed.
See you in Wyoming, folks. Yeehaw!