It's our last night and although this has been a wonderful trip I'm very glad to be going back to my own bed tomorrow night. We are in St. George, Utah watching Disney's Descendants (unspeakably awful) on cable TV as a special treat for Eleven and I am quietly packing in the background.
Wyoming was rather wonderful. We spent our first night in Buffalo at its most famous hotel which has housed such illuminaries as Theodore Roosevelt, Butch Cassidy and the Sundance Kid, and even Ernest Hemingway. In the days of the wild west it was also a functioning brothel and the rooms still retain that sort of decor. I felt (alarmingly?) at home there. I'm thinking it's because I must have been a gunslingin' outlaw in a past life, right?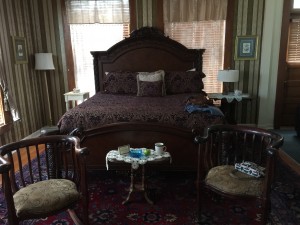 The next day we drove on to Cody to stay at the Bill Cody dude ranch where we stayed in a log cabin, practiced our rope slinging skills, and rode horses through the canyon. One night we went to the night rodeo which was exactly as I had imagined a rodeo would be. Bucking broncos, calf roping, rodeo cowboys, and much singing of the national anthem and talk of patriotism and Murica. I was slightly alarmed to see the junior broncos, aged under 12, being thrown from maddened young calves (with horns) and more than a couple of kids being trampled upon. I wondered what would make anyone want to put their child in the face of that kind of danger, but I suppose it is a cultural thing.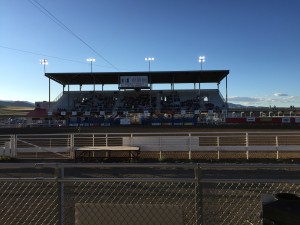 I forced everyone to get up very early yesterday and although I endured much complaining from my family at first, everyone was glad once we spotted this other family also out for a pre-breakfast expedition.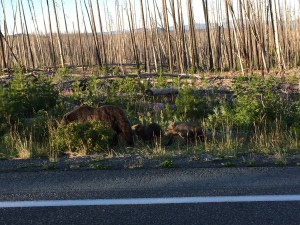 We also spotted this rather handsome gentleman taking a stroll down the road.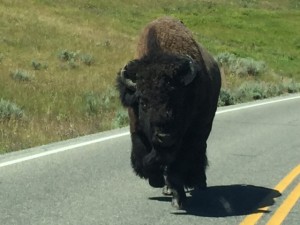 We made it to Old Faithful (which dutifully erupted) by 8.30am and had a delicious, enormous breakfast at the lodge before heading out of the west gate of the park. We didn't see much except traffic on our way out and we drove south out of the park into Idaho for a few hours, stopping for the night at Lava Hot Springs which has (amazingly enough) some hot springs in which Husband and the kids took a soak although I was a bit headachey so gave it it miss.  Lava Hot Springs is a very sweet little town, and it has all the most modern conveniences.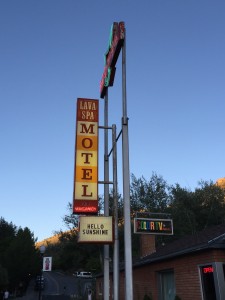 CHECK OUT THE SIGN!! THEY HAVE COLOR TV! BY RCA!
We pulled out of town at 6am this morning and arrived at the lovely Hampton Inn in St. George mid afternoon, and tomorrow we'll be on the road at 6.30 again and hoping to hit Santa Barbara within 7 or 8 hours of hard driving.
It's been the most fabulous seven weeks. This country is so rich and varied, its inhabitants so warm, welcoming, and friendly. I'm so glad to have seen so much and to have been able to show my children a bit of their own country.
Still, after seven weeks on the road, I'm now very excited to be going back to our lovely little city on the sea.
East, west, home is best.