About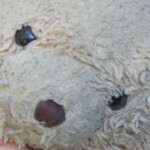 Mothership is a former pop star, singer, composer, and writer from London, England, who was abducted by aliens
(a German one who promised chocolates and a cleaning lady) and brought to California to live in a small town by the sea.
After seven dreary years in 'Stepford', she escaped to San Francisco where she lives with her two children, an absent-minded husband (her own), and a rather dull, blue fish.
She is fond of commas and cups of tea.
She rarely writes in the third person but is making an exception in this case.